Want a speaker? Invite Mustapha for Board Induction. Strategy retreats. Staff Motivation.
Discover the technique that will help you thrive, subscribe now
Get To Know Mustapha B. Mugisa
Book Mustapha to Speak at your Event
Do you want to take your business to the next level? Do you want to breathe life into your business function? Invite Mustapha as a speaker, and have your team's morale through the roof! Mustapha is the Architect of WinningMindset® Leadership.
Contact Mustapha Personally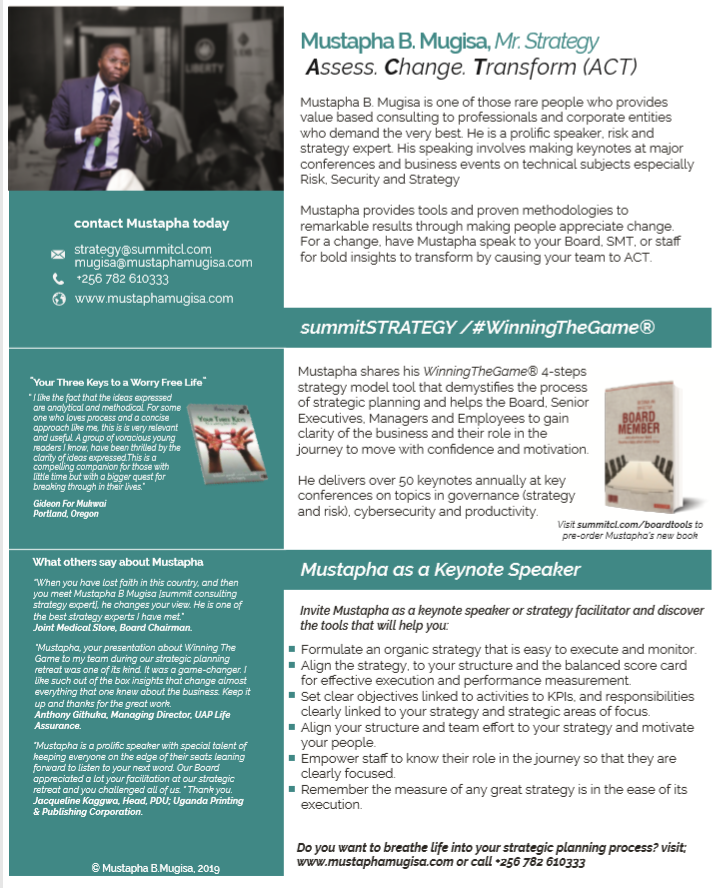 Mustapha is a highly qualified professional with over eight certifications and an MBA.
Mustapha B. Mugisa is one of those rare people who provide value-based consulting to professionals and corporate entities who demand the very best. He is a prolific speaker, a strategy, risk and anti-fraud expert. His consulting firm, Summit Consulting Ltd has attracted clients who are market leaders in their respective sectors such as MTN, Tullow Oil, Uganda Revenue Authority, Stanbic Bank, UNRA and over 200 leading organizations.
He serves as a Technical Advisor on the Board of Directors of Uganda Red Cross Society, a member of the leading global humanitarian organization. He also serves on the Board of Reach Out Mbuya, a Community Faith-Based Non-Government Organization (NGO), founded in 2001 to provide HIV/AIDS care to the urban poor persons living with HIV/AIDS (PHAs).
His speaking involves making over 15 keynotes a year at major conferences and business events. He has been a visiting strategy trainer to MBA students at Kisubi Brothers University College, now University of Kisubi.
Do you want to have your staff morale raising through the roof and become a leader others want to follow NOT have to follow?
Discover the technique that will help you thrive, subscribe now